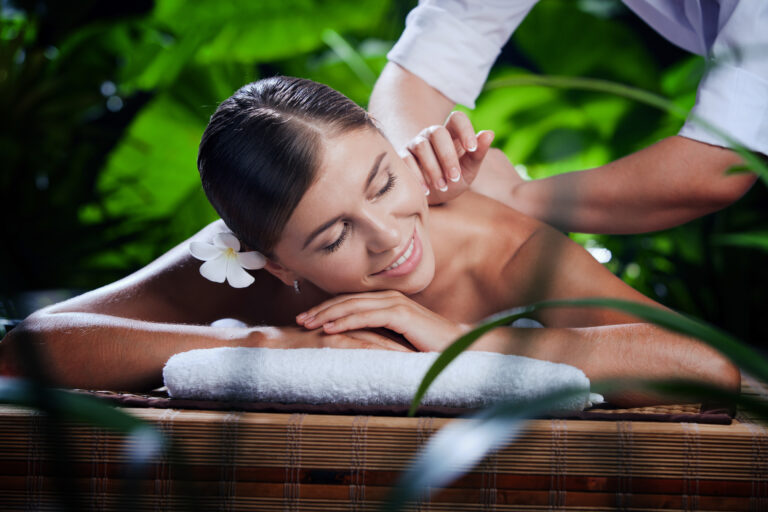 Classic Thai Massage Warsaw
The history of traditional Thai massage is over 2,500 years long now. Contrary to its name – it originates from India, from where it was brought to Thailand by wandering monks around 200 BCE.
It is an intense massage performed without use of oils. Unlike most massages, it is not performed on a bed, but on a mattress lying on the floor instead. The massage therapist massages with their whole body: they use hands, elbows, forearms, and sometimes even their knees or feet.
The traditional Thai massage combines elements of passive yoga, acupressure, shiatsu massage, stretching and Ayurveda.
For every customer, the intensity of pressure will be matched individually.
The classic Thai massage is recommended above all else to those who live a sedentary lifestyle, who need not only relaxation but also stimulation of muscles and circulation.
Advantages of classic Thai massage:
eliminates stress and reduces muscle tension
alleviates migraine pains
improves mobility of joints
stimulates blood and lymph circulation
expands the range of motions in joints
reduces anxiety, gives a sense of peace, relaxation and harmony
gives an energy boost
helps with feminine ailments, such as menopause
makes body firmer and slimmer
Indications for the use of classic Thai massage:
stress and mental fatigue
muscle pains, contractures and tensions in neck, back and arm muscles
rheumatic diseases
excess weight and obesity
palsies and paresis
headaches and trouble sleeping
recovery after a long-lasting illness or injury, i.e. after taking a cast off
lowered body immunity
reduced mobility in joints
post-traumatic conditions, i.e. after bruises and sprains
Contraindications for the use of traditional Thai massage:
increased body temperature, above 38 degrees
viral and infectious diseases
skin diseases and purulent lesions
strong weakening of the body caused by things like illnesses or intense physical exertion
pregnancy
menstruation, especially the first day
cancer – after tumor removal, using Thai massage should be consulted with a doctor
fresh scars and wounds
hernia
peptic ulcer disease, coeliac disease, hernia, parasite-related illnesses
nervous system diseases
heart and circulatory system diseases, including hypertension
fractures and fresh adhesions
first days of a post-traumatic condition, i.e. strained muscles and tendons, sprains, bruises
skeletal system diseases
If you can't use the classic Thai massage – try the relaxing aromatic oil massage.
What is the traditional Thai massage like?
The classic Thai massage is called "yoga for the lazy", because it is the therapist who places the massaged person's body in positions originating from yoga. The massage is performed in several positions: on the back, on the stomach, on sides and in a sitting position. The treatment starts with feet – gradually moving towards the head. This type of massage belongs in the group of deep massages – the techniques used during massage allow to reach the deepest muscles.
During the treatment, the massaged person is dressed in a loose outfit that doesn't limit movements and ensures comfort.
It is recommended not to consume big meals or alcohol before a Thai massage.
A Thai massage session can also be performed as massage for couples. It's a perfect opportunity to spend time together in an incredible atmosphere and share the unique experiences during the oriental ritual.
Professional classic Thai massage in Warsaw
We invite you for classic Thai massage in Warsaw's district of Wola. At our salon, we offer traditional Thai massage performed by experienced therapists who came to us from Bali, where all the best massage therapists in the world come from!
A traditional Thai massage session at our salon is a type of ritual that allows to get rid of bothersome pain and stress as well as experience an unforgettable oriental adventure. It calms the whole body and helps achieve the state of inner harmony, it is a powerful energy boost that stimulates the body to act.
Our massage therapists will adapt the intensity of massage, as well as the number of yoga poses to the customer's condition and individual predispositions. The massage takes place in an intimate atmosphere that is accompanied by relaxing, oriental music and exotic aromas of candles and oils.
When you visit Tajski Raj in Warsaw, you can feel like on an exotic journey following the trail of Thai and Balinese masters of massage.
Book a convenient classic Thai massage appointment in Warsaw at our SPA salon today!