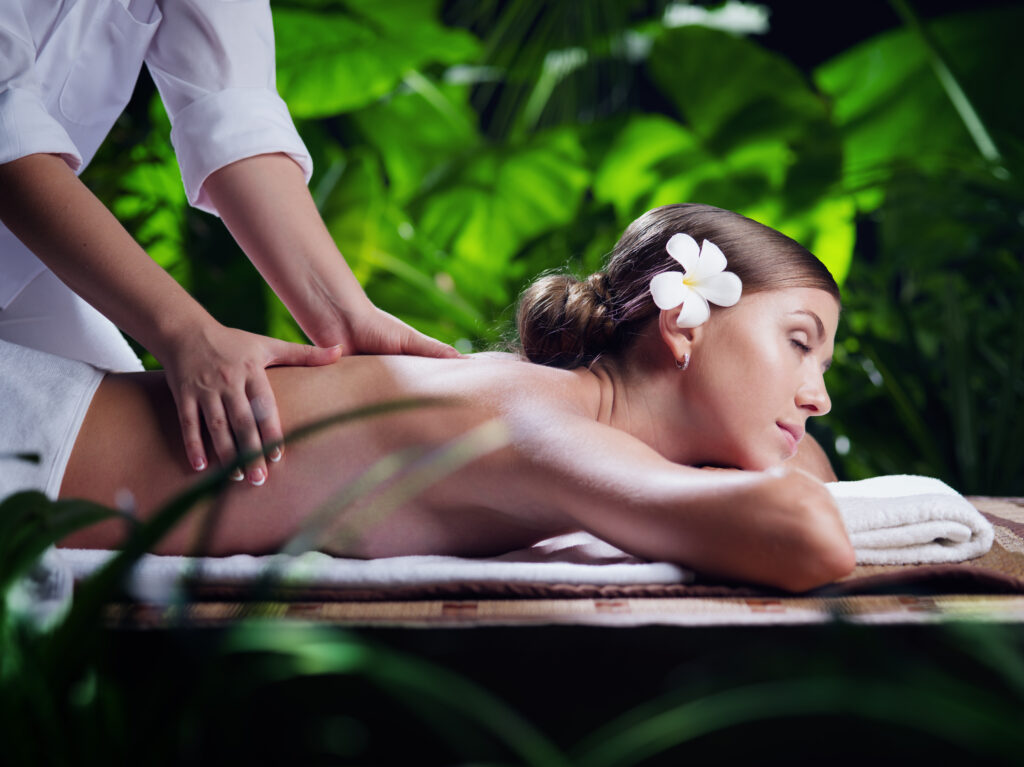 Balinese Massage Warsaw
The Balinese massage originates from the islands of Bali and Java. It combines elements of reflexology, aroma therapy, acupressure and Ayurveda. During a session, the therapist uses essential oils that penetrate deep into the skin to moisturize and nourish it.
The massage therapist presses their hands against specific spots on the body in order to reach deeper layers of muscles and stimulate blood and lymph circulation. By pressing, stretching and rubbing the tissue, they clear the energy channels and put the body in a state of energetic balance and calm.
The Balinese massage is one of the most relaxing form of massage. It is performed on a mattress or a massage bed, usually in a lying position.
Advantages of Balinese massage:
improves blood and lymph circulation
improves the quality of sleep
alleviates migraine pains
deeply relaxes
alleviates stress and reduces muscle tension
strengthens the immune system
reduces sensation of fatigue and improves mood
cleanses the body
calms emotions and restores internal balance
supports treatment of allergies
Indications for the use of traditional Balinese massage:
sleep disorders, insomnia
migraine and headaches
sedentary lifestyle
muscle and joint pains
muscle spasms
dry skin
chronic stress and psychological tension states
overworking and chronic fatigue
allergies and respiratory system ailments
Contraindications for the use of traditional Balinese massage:
skin diseases (eczema, mycosis)
pregnancy
menstruation
fractures and fresh adhesions
cancer
hemophilia
circulatory system diseases
bacterial and viral diseases
fresh wounds
What is the traditional Balinese massage like?
The massage that originates from Bali – "the island of happy people" – is intended to restore inner balance and unity of body and soul. In order to achieve that state, the therapist compresses specific body parts one by one.
During the treatment, specific spots are rubbed and stretched, with particular emphasis on the back, arms, neck and head. This allows to minimize the muscle tension and introduce the body into a state of deep relaxation.
During a Balinese massage session, aroma therapy combined with calm music are crucial. The essential oils used enhance the relaxed sensation, improve metabolism and have a beneficial impact on blood circulation.
In Bali, this massage is very often performed in the "four hands" version, because a legend has it that the ability to perform the traditional massage was given to the Balinese by goddess Lakshmi, who has four arms.
Professional Balinese massage in Warsaw
We invite you for traditional Balinese massage in Warsaw's district of Wola. Our guests are offered an incredible adventure – a journey down the trail of the Balinese masters of massage, which guarantees wonderful sensations. Thanks to our experienced massage therapists from Bali – during a massage performed just the way it's done in Indonesia you will be able to immerse yourself in blissful happiness and deep relaxation. 
You will experience incredible sensations that you will wish to repeat and experience again!
Give yourself a little bit of pleasure in form of oriental Balinese massage, the main effect of which will be restoring a state of full harmony by strengthening the energy of CHI. You will get rid of bad energy, whereas the good one will be released and will freely circulate around your body. Take good care of your body's and mind's health with us!
Book a convenient traditional Balinese massage appointment in Warsaw at our intimate salon today!