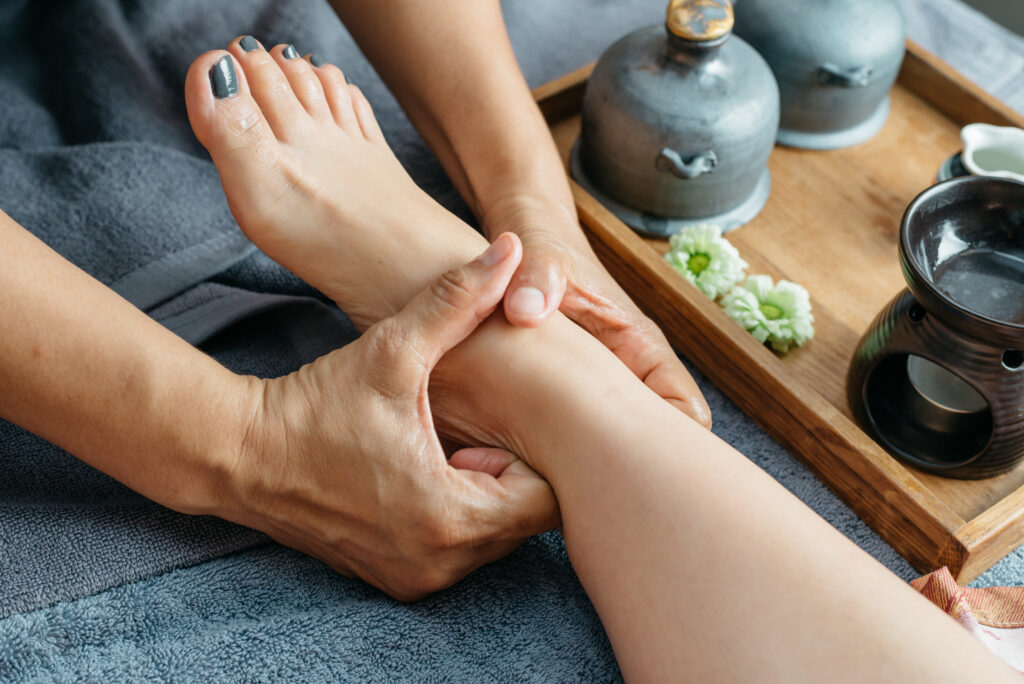 Foot and Leg Massage (Reflexology) Warsaw
In Asian cultures, feet are one of the most important elements of our body. The Thai foot massage utilizes the methods used in reflexology, which proposes that different spots on feet correspond to internal organs of our body. By stimulating those spots, we will unblock energy lines and stimulate the functioning of organs. Reflexology stimulates our body to work, it helps remove toxins from it, it improves the quality of sleep, regulates digestive processes, contributes to proper functioning of the central nervous system. It means that foot massage has a beneficial influence on the entire body.
Getting regular foot and leg massages is particularly important for those who work a standing or sitting job. A foot and leg therapy is also recommended for women who often wear stilettos or high heels. The effects of a professionally performed massage can already be noticed after the first treatment.
Advantages of foot and leg massage:
strengthens the immune system
helps remove toxins from the body
alleviates sleep disorders
reduces the "heavy feet" sensation
regulates metabolism
improves blood circulation
improves the functioning of many organs
Indications for the use of foot and leg massage:
chronic fatigue, especially leg fatigue
sedentary lifestyle
tendency for migraines
sleep problems
standing job
obesity
problems related to lymph stagnation in the body
Contraindications for the use of foot and leg massage:
increased temperature – above 38 degrees
menstruation
pregnancy
diabetes
cancer
significant weakening of the body
inflammations of intestines, veins, joints, tendons, kidneys or meninges
osteoporosis and other skeletal system diseases
skin diseases
nervous system diseases
heart and circulatory system diseases
infectious and viral diseases
fresh scars and wounds
first days of a post-traumatic condition
What is the Thai foot and leg massage like?
The massage is performed on a mattress or a massage bed – in most cases in a lying position the entire time. The massaged person is dressed in a loose, billowy, comfortable outfit. During the treatment, the therapist is using oils and balms.
The first stage of the treatment is washing the feet with warm water and drying them. Then the therapist rubs the right combination of oils and balms in the feet, after which they move on to the main phase of the massage. Throughout its course, they massage the top of the foot, its sole, toes, ankles, calves, knee regions. The massage therapist always starts the treatment with the left leg and massages it with their hands alone or using special sticks intended for this type of massage.
It's a good idea to refrain from washing feet right after the treatment. When left on the feet, for the next few hours the oils will continue releasing substances to the body that have very beneficial health properties.
Professional foot and leg massage in Warsaw
We invite you for a Thai foot and leg massage in Warsaw's district of Wola. Our experienced massage therapists from Bali will take care of your well-being and select massage techniques that will allow to achieve the best, long-lasting effects. Thanks to their knowledge on Thai massage and reflexology, you will quickly feel relief and beneficial effect of a treatment focused on feet and legs.
Your feet deserve a moment of relaxation, pleasure and relief! Give yourself a little bit of time spent in pleasant surroundings of green, oriental aromas and calm music. Take care of your entire body's health, relaxation for tired feet and legs as well as general well-being.
With regular foot and leg massage sessions, you will significantly improve the quality of your life, your health, and achieve harmony and peace.
Book a convenient Thai foot and leg massage appointment in Warsaw at our salon today!