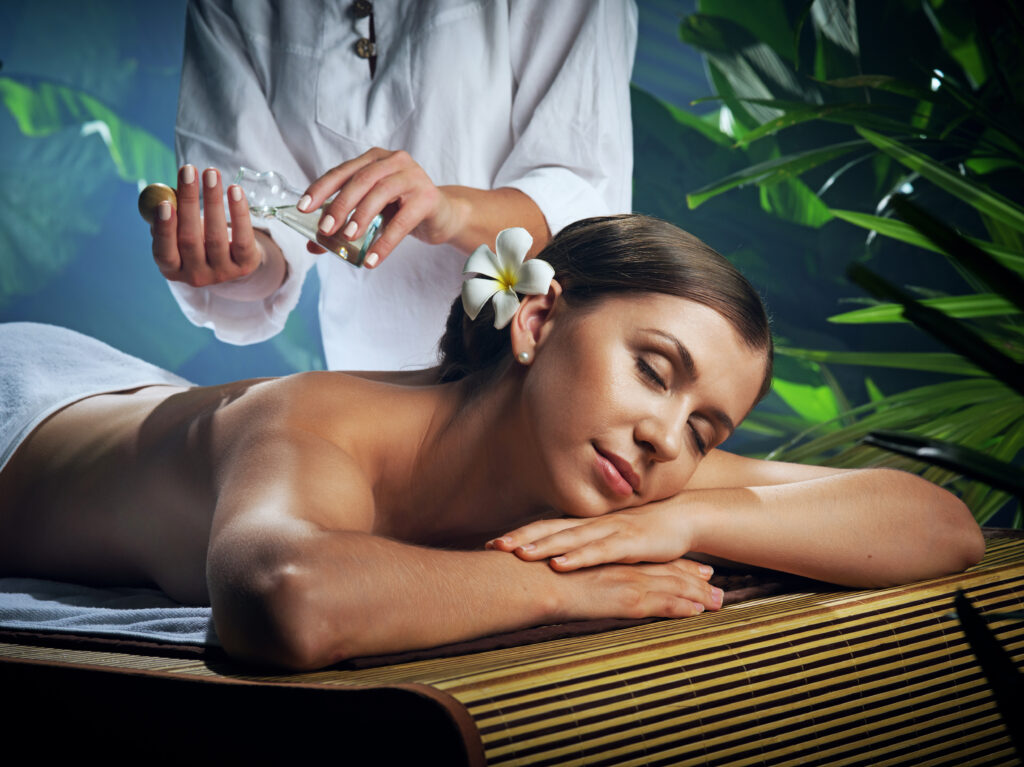 Relaxing Massage with Aromatic Oils Warsaw
A relaxing oil massage is among the most pleasant treatments that you can have when visiting our Thai SPA.
This type of massage utilizes top quality organic oils that not only help us relax, but also nourish and moisturize our skin. This treatment is perfect for those who expect a gentle massage in order to relax after a hard day and release the stress accumulated in the body. Under the influence of delicate, fluid, sliding movements, the scent of oils and the relaxing music, the body tensions literally melt away, introducing us into a blissful state.
Advantages of relaxing oil massage:
helps relax and release the stress accumulated in the body
improves the quality of sleep
regenerates the body and mind
adds vitality
reduces pain and muscle tension
helps remove toxins from the body
nourishes the skin
Indications for the use of relaxing oil massage:
for people who need a moment of peace, calm and time for themselves
healing solution to paresis, rheumatism or neuralgia
during recovery from illnesses, accidents and injuries
for those who cannot use the classic Thai massage for health reasons
Contraindications for the use of relaxing oil massage:
in case of epidermis breakage
in case of allergy to the ingredients of oils used during the massage
What is the relaxing oil massage for the body and mind like?
The therapists approach every customer individually, choosing the right oils and massage techniques according to the expectations and needs of the massaged person.
The massage takes place in a lying position on a special massaging bed. During the therapy, the massage therapist touches and compresses using their hands, elbows and forearms, combining acupressure techniques with elements of ayurvedic massage.
Calm, rhythmic movements performed during a treatment allow to relax, calm down, loosen up, and to mentally wander off into a paradise.
This type of massage is pretty much perfect for sessions of massage for two – making it possible to relax together and experience the unique oriental ritual.
Professional relaxing oil massage in Warsaw
We invite you to our salon in Warsaw's district of Wola for incredible sensations and moments filled with relaxation. Our experienced therapists will ensure a unique atmosphere while performing a delicate relaxing massage with aromatic oils.
At the Tajski Raj salon, we only use top quality oils intended for massage, which contain extracts of sandalwood, rose, lavender, rosewood, pranjipani or ylang-ylang.
During a treatment, we will provide you with professional care from massage therapists from the exotic island of Bali, pleasant relaxing music, nerve-soothing green and intimate atmosphere. It's a place where your body and mind can relax!
Book a convenient relaxing oil massage appointment in Warsaw at our Thai SPA salon today!