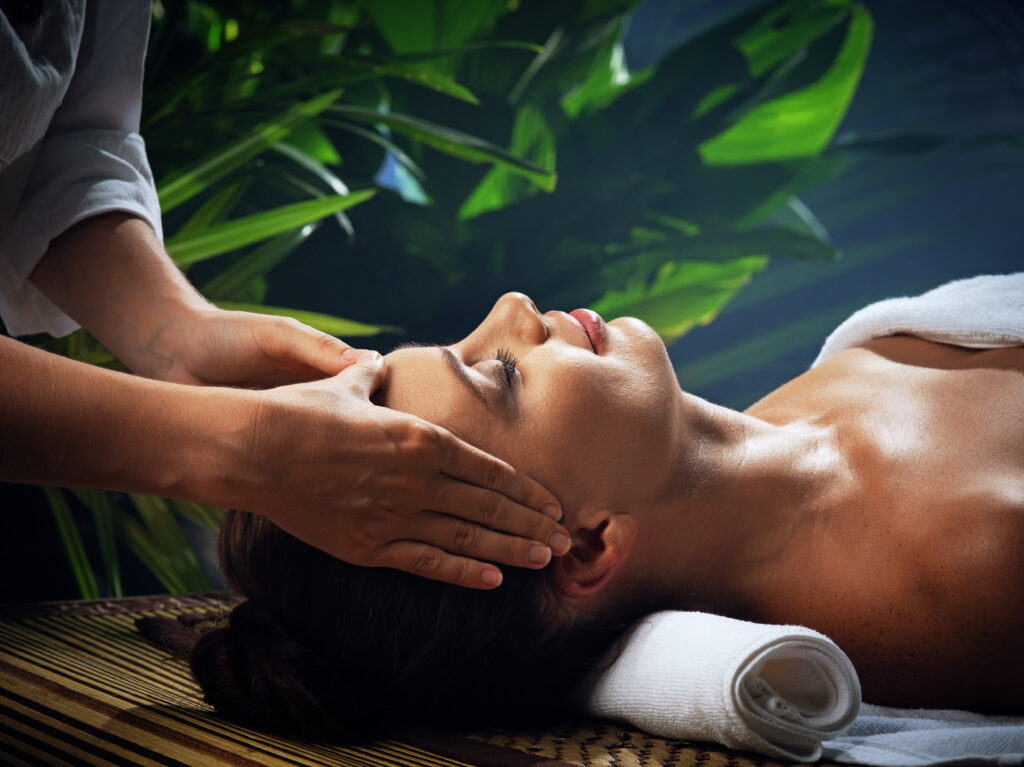 Back, Shoulder and Head Massage Warsaw
The back, arms and head massage is a perfect choice for those who spend a lot of time in a sitting position, exposed to daily stress and fatigue. It's a type of traditional Thai massage that combines elements of Ayurveda, passive yoga and acupressure.
It allows to relax and stretch tense back muscles, it eliminates pain. The head massage, which is an important element of the treatment, additionally strengthens hair follicles, thanks to improving blood circulation in the scalp, and helps eliminate migraine pains. The sensation of relief and lightness can be experienced right after the treatment.
Advantages of back, arms and head massage:
alleviates stress
lowers muscle tension
reduces back and arms pain
alleviates headaches and migraine pains
relaxes and calms down
regenerates the body
improves mood
significantly improves the quality of sleep
stimulates blood circulation
strengthens hair follicles
adds energy
Indications for the use of back, arms and head massage:
sedentary lifestyle, i.e. working in front of a computer
lack of physical activity
chronic headaches and back pains
sleep problems and insomnia
prolonged stress and mental strain
excessive physical exertion
neck and arm tension
overall sensation of fatigue
Contraindications for the use of back, arms and head massage:
infectious skin diseases
increased body temperature
hypertension
pregnancy
heart diseases and defects
cancer
spinal inflammations
skeletal system diseases
fresh scars and wounds
first days of a post-traumatic condition
What is the back, arms and head massage like?
This massage combines the relaxing massage techniques that utilize warming ointments, as well as compression elements characteristic of the classic Thai massage, in which oils and ointments are not used.
The back, arms and head massage is performed on a mattress. The massaged person is dressed in a loose, billowy outfit that doesn't limit movements. The therapist adjusts the compression techniques to the patient's individual needs. The massage is performed using hands, fingers, elbows, forearms.
During the first stage, the massage therapist relaxes the massaged person's back. After the initial phase the treatment becomes focused on individual sections of back muscles – mostly arms and shoulders. Then the massage covers the front parts of the body – chest, arms and hands. During the last stage, the therapist focuses on head massage, which improves concentration and has a soothing effect in case of migraine.
The back, arms and head massage is intended to relax, loosen and help get rid of pain. It is pretty intense, which is why, in cases of significant muscular tensions, discomfort may occur during the massage. After the treatment, however, the pain will be gone, and it will be replaced by relief.
Professional back, arms and head massage in Warsaw
We invite you for a relaxing, pain-relieving back, arms and head massage in Warsaw's district of Wola. At our intimate Thai SPA salon, you will get rid of back and neck pain, the sensation of fatigue, you will take care of your body and mood.
The treatment is performed by experienced massage therapists from Bali, who are perfect at diagnosing the customer's needs and matching the massage techniques and intensity. We are convinced that even the first back, arms and head massage session will bring relief already, and regular use of the treatment will allow to forget about pain and discomfort.
Give yourself a moment of relaxation and take care of your body, mind and soul. During a back, arms and head massage at our salon you will travel to a world of harmony, relaxation and full body bliss.
Book a convenient back, arms and head massage appointment in Warsaw at our intimate salon today!